For those who are looking for free useful SEO tools, we tested and prepared a list of the 20 most useful SEO tools for free keyword search, back-link checking, and overall web page analysis. So if you have a tight budget, help with this list of free SEO tools. Of course, some of these tools have limits (signing up and getting their news 🙂 or a limited number of searches).
Moz defined keywords as ideas and topics that define what your content is about. In terms of SEO, they're the words and phrases that searchers enter into search engines, also called "search queries." If you boil everything on your page — all the images, video, copy, etc. — down to simple words and phrases, those are your primary keywords.
As a website owner and content creator, you want the keywords on your page to be relevant to what people are searching for so they have a better chance of finding your content among the results.
Google Ads Keyword Planner is a free keyword research tool that allows you to find the right keywords to target for display ads, search ads, video ads, and app ads. With it you can find new keyword ideas for your Search Network campaigns that are relevant to your product, service, and target customers.
Read more about how to search for new keywords with Google Keyword Planner.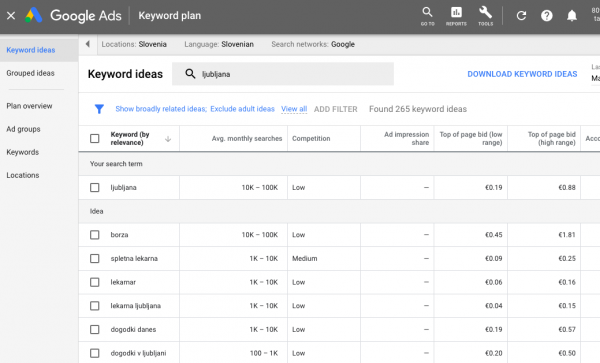 Answer the Public helps you uncover the questions people are asking on Google, forums, blogs and on social media. It is free with some limitations: language and local based results, images, saved reports, etc.. But it is free for bloggers and solo marketers looking to generate a handful of content ideas.
More about a free vs. paid plan.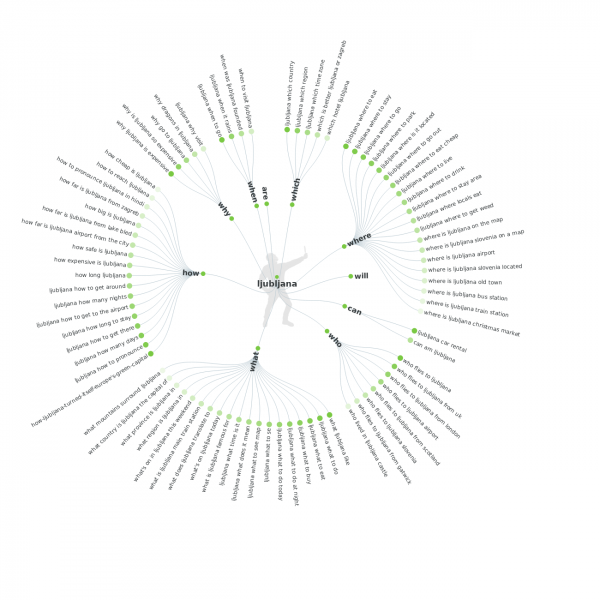 Keyworddit extract keywords from chosen subreddit (here is a list of available subreddits). The tool looks through the titles and comments, and as the result extracts up to 500 keywords with search volumes.  It is a great tool for getting long-tail keywords and seed keywords that you might not have found any other way.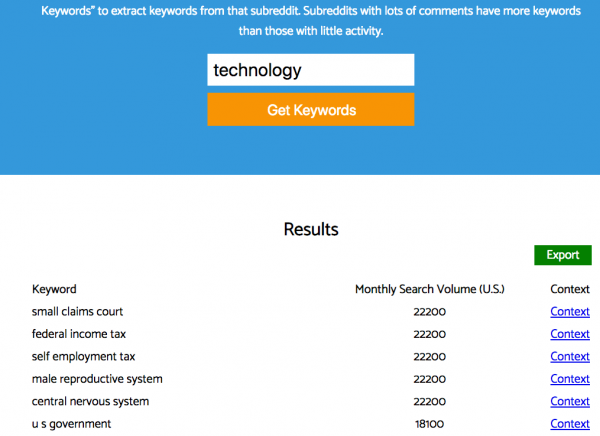 Questiondb finds the questions that your readers are asking. Here you can find what problems people search, what people care about and what they are interested in.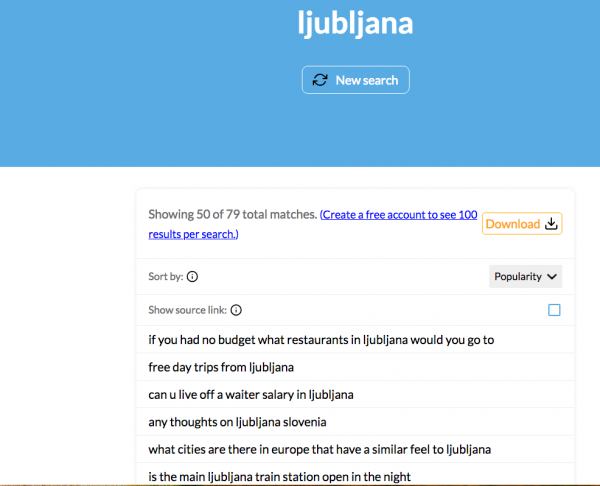 SerpRobot is a free online Google keyword rank tracker. You can use it to find your websites google search ranking position instantly in real time. You can check up to 5 keywords at once.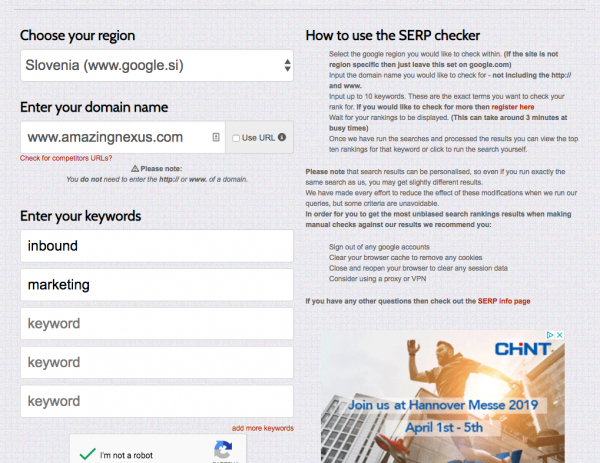 Keywords Everywhere is a free Google Chrome extension that will help you ease the process of finding the exact keywords your audience is looking for. It shows google keyword search volume, cost per click and competition data of keywords on multiple websites. Keywords Everywhere let you find long-tail phrases with their accurate search volume, CPC and competition data.

After installation, you can try google one of your keywords. Example of keyword "ljubljana":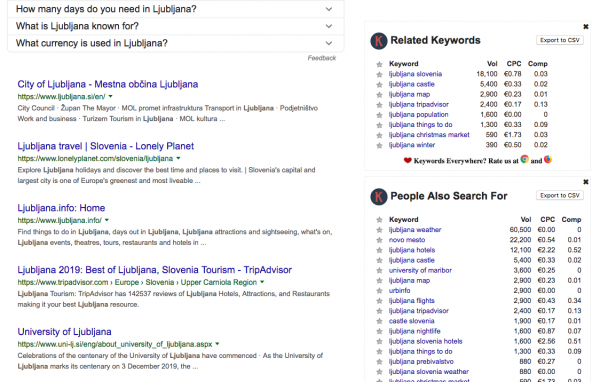 Mergewords is a free tool for easily combining and creating long-tail keywords. It lets you merge up to three sets of keywords, like a glue.
The result is a set of long-tailed keyword glued together from set 1, set 2 and set 3.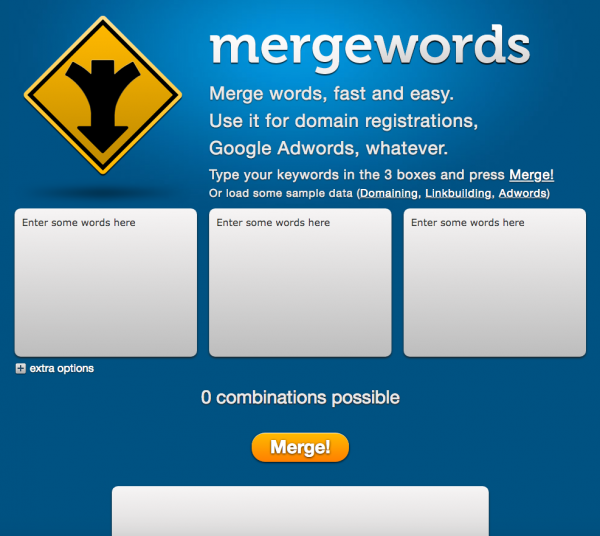 Can IRank? answers "Can I rank for this keyword?". This tool is using AI to give you specific action recommendations rather than just raw data. With free sign up you can check: 40 highest ROI opportunities, 200 keyword recommendations, 20 link opportunities, 5 competitive analysis reports and 5 on-page SEO analysis.

After sign up, you decide about homepage, keywords etc. Then this super tools starts analyzing your page and your competitor's page and at the end it prepares you an online marketing performance report.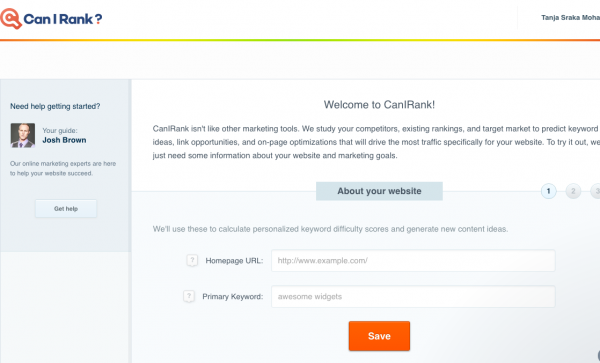 Wordtracker Scout is a Google Chrome Extension that helps you uncover important keywords of your market. It is a different tool: it shows you the most common terms on any page.
It can help you uncover your competitors high performing keywords. That way, you can go over to one of your competitor's pages… and grab the keywords they're using in their content.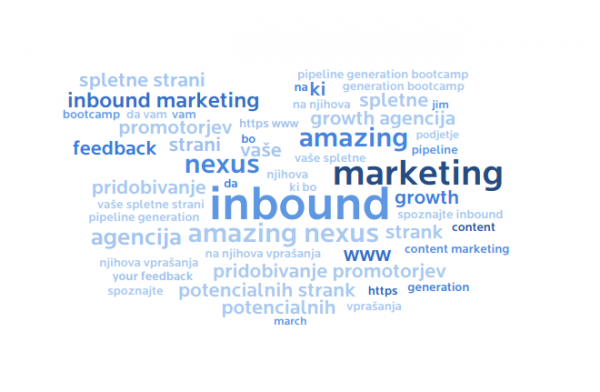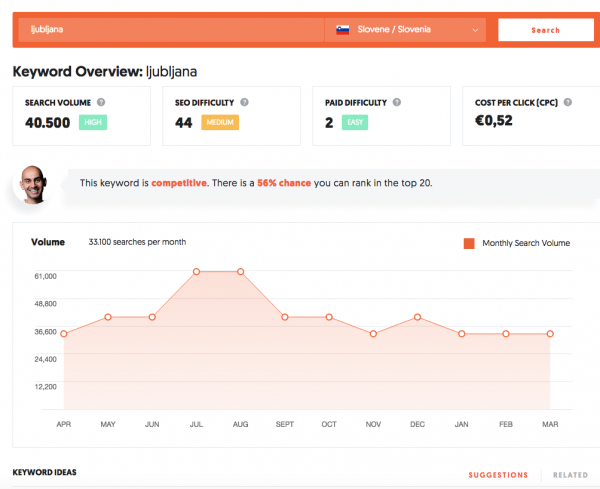 Backlinks (inbound links, incoming links, inward links and inlinks) are hyperlinks that point towards your web site or blog from other domains all around the web. These links are one of the most important factors when it comes to search engine optimization (SEO) and will help your site achieve a higher rank on search engine result pages (SERP). Simply put, the more high-quality links you have pointing back to your site, the more popular search engines will deem your page, helping your site rank higher.
In the eyes of a search engine, the more inbound links a site has pointing to it, the more popular and valuable it must be to readers.
Ahrefs free backlink checker shows up to top 100 backlinks to any webpage or website, top 5 anchors and top 5 pages for free.
LinkMiner checks page for any broken links.
It colors all active links with green and all broken links with red, so you can easily find them and fix them. You can also download a csv file with links.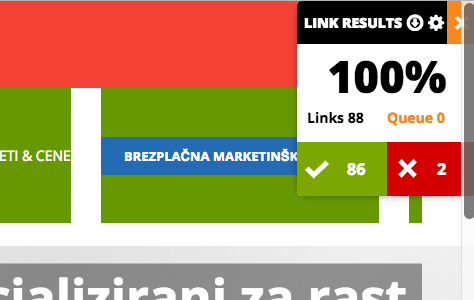 With Google Analytics you can analyze how many people are visiting your website, who they are, and where they come from.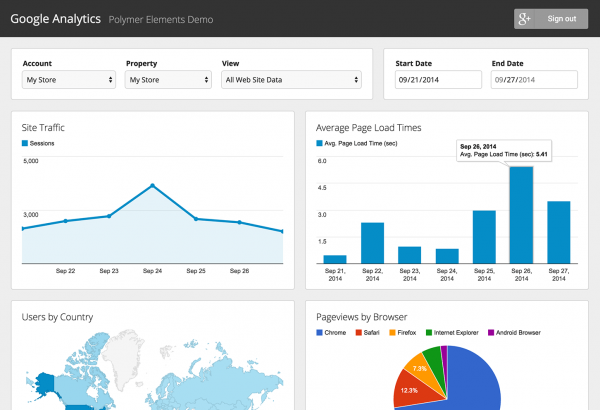 With Google Search Console you can uncover and fix technical and on‐page issues.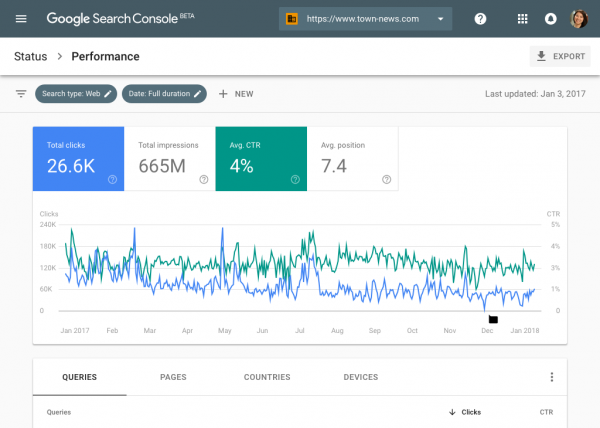 SEMrush is an all-in-one digital marketing suite with tools for all of the following professional services:
SEO (search engine optimization)

PPC (pay-per-click advertising)

Keyword Research

Competitive Analysis

Social Media Marketing

Public Relations

Content Marketing

and more!

Read more about what can you do with your free Semrush account here.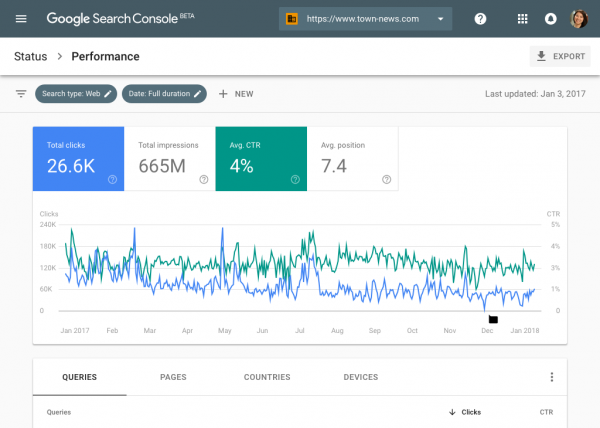 Website Grader is a free online tool that grades your site against key metrics like performance, mobile readiness, SEO, and security.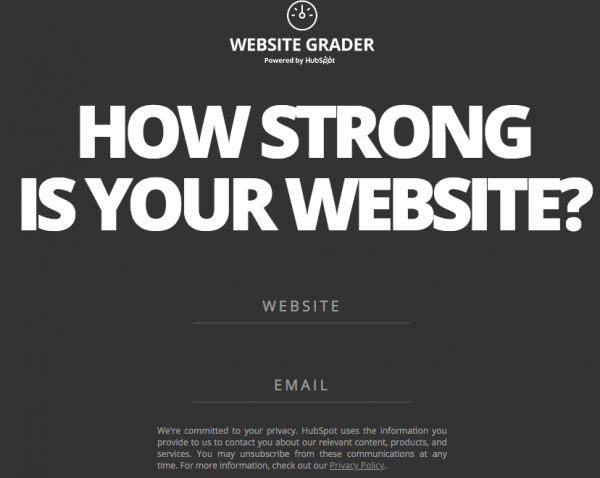 Yoast SEO is one of the most widely popular WordPress plugins around. Yoast makes it easy for you to do things like control titles and meta descriptions, set your targeted keywords and track how often you're using them, manage sitemaps, and so much more.
See free vs paid features here.
Read more about Yoast installation and usage here.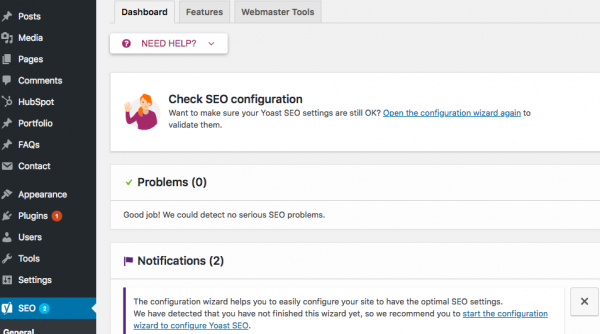 Lipperhey is an online SEO service that analyzes and objectively assesses the quality, searchability, and popularity of your website. It's an easy way to monitor your site's SEO health and progression.
In the free version, you get a free plan for one project, independent web analytics, keyword suggestions, backlink analysis, and SEO report.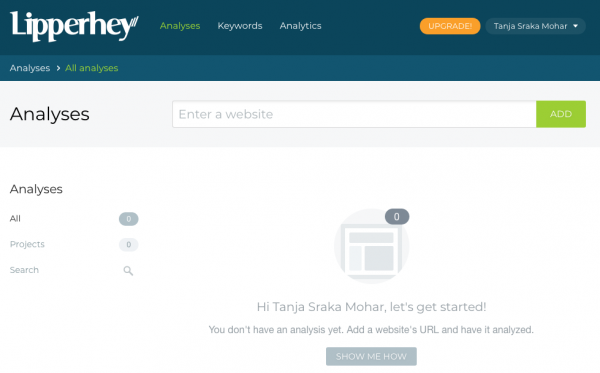 SEO Web Page Analyzer analyzes the structure and content of your web page and assesses the build quality and content quality from an accessibility, usability and search engine point of view.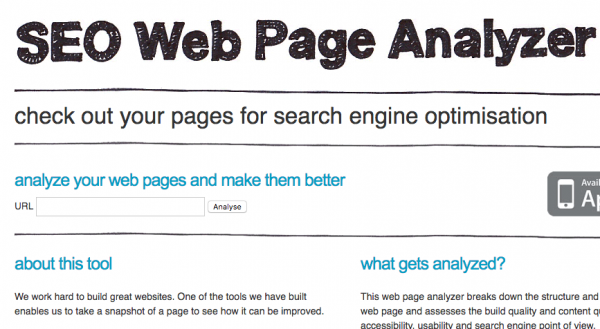 The web is being accessed more and more on mobile devices. Designing your websites to be mobile friendly ensures that your pages perform well on all devices. This test checks if your page is mobile friendly.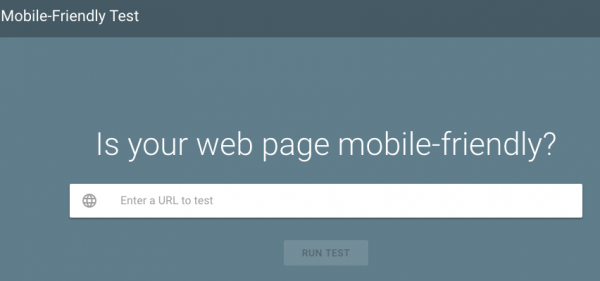 Key takeaway …
Inbound marketing is all about building trust. One of the steps for building that trust is by checking your on-page SEO regularly, so your page won't have broken links and that it will have the right keywords people are looking for.
Google makes some of the best free SEO tools. My advice is to start there and then start to use paid tools. First, get to know what you really need, define your needs and then decide for the tools that meet those needs.
I hope this list will be any of your help. If we have missed anything you believe it is important, let us know. Thanks :)!